Total portfolio time weighted return and dollar weighted return figures can't be calculated if portfolio value drops below zero at any time since inception. As a result TWR and DWR will be displayed as N/A along with a hazard symbol. A common cause of portfolio value dropping below zero is a missing cash deposit into the cash trading account, particularly for the initial purchase of the stock; or a large cash loan. By default, Portfolio Director includes cash, term deposits and loans into the portfolio return calculations, and they may cause the overall portfolio value to go negative, preventing calculation of TWR and DWR.

If you would like Cash & Term Deposits removed from your total portfolio return calculations, you will need to uncheck 'Include cash accounts in performance calculations' in the portfolio settings. See instructions below:
Navigate to the Portfolio Director
Click the 'Edit' icon (next to the portfolio name)
Select 'Edit Portfolio'

Untick 'Include cash and term deposits
Untick 'Other Assets'
Click Save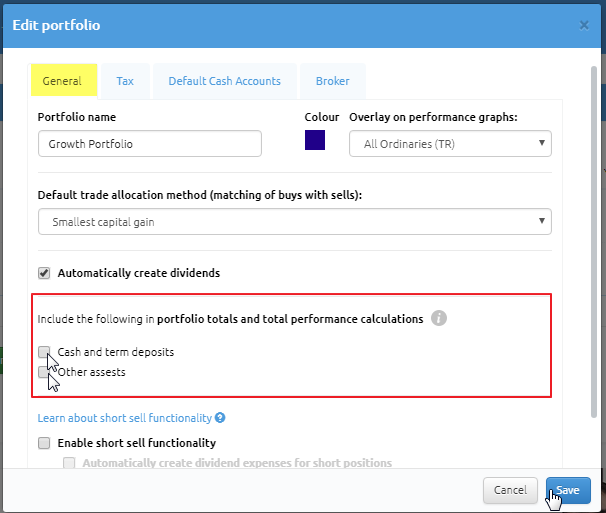 ** Unchecking this excludes All Cash accounts and Other assets from Time or Dollar Weighted Returns, thereby removing the impact of leveraging on these calculations.