This screen filters for all Lincoln, Consensus and ASX (Price Sensitive) Announcements/Updates relating to companies listed in your watchlists, portfolios and Lincoln covered stocks over the last week by default.
You can access this feature by clicking on the 'Tools' Tab, then selecting 'Recent Updates'.



Browse through your updates/announcements in the past week. You can tighten/expand this time period from one day to a selected time frame using the filter 'Date Range' located in the left sidebar.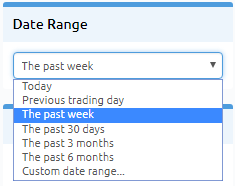 In the main window of results, click on the company code or name to bring up the companies 9 Golden Rules screen. A coloured Star next to the company code indicates it's a Lincoln preferred company. The exclamation symbol indicates it's a price sensitive announcement.


On the right of the result descriptions you will see a 'Red Bell' icon with a number. The number on the bell indicates the number of alerts you have created relating to this company, if the icon is red this indicates an alert has been triggered. Clicking on this bell icon will direct you to the Alert Manager page.

Adjust your search criteria for the many different types of updates. You can filter for these in the 'Update Type' and 'Company Coverage' located in the left sidebar. Click the 'refresh' button to run your search.