The Alert Manager allows you to create alerts for securities that will automatically trigger when they reach a certain criteria.
You can access the Alert Manager by clicking on the 'Tools' menu and selecting 'Alert Manager' from the drop down list.


There is a wide range of alerts to select from that have been sorted into 4 unique categories: Change Alerts, Notification Alerts, Price Alerts and Valuation Alerts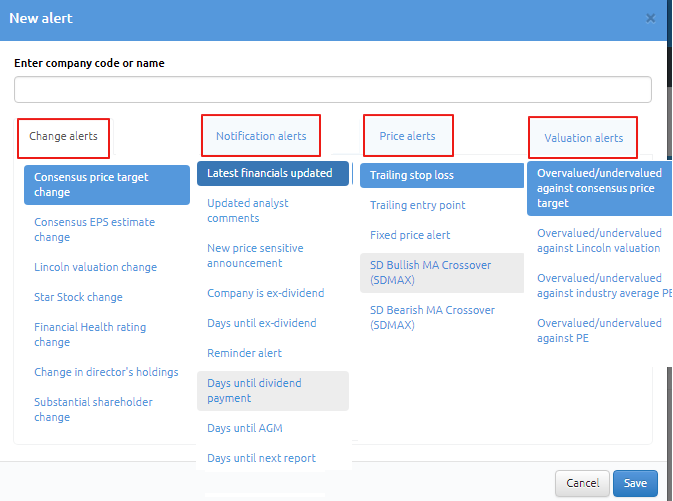 Triggered alerts
When an alert is triggered you will notice that the bell to the right of the alert will be displayed in red. This convention is replicated in other features of the program where the alert status is displayed E.g Watchlist and Portfolio Director.
In order to reset the alert and return it to a pending status simply tick the alert and click 'Reset Trigger'

Navigating the Alert Manager
Given your ability to create as many different types of alerts for one specific company, or for a large selection of companies we have created a number of navigation tools to help you manage the list.
You can either type in the search box a company code and the list will filter to display that company.

Or alternatively click on a column heading a the information will be sorted by that column.
All triggered alerts will automatically appear at the top of the page giving you quick access to issues that require immediate attention.
Email / Intraday alerts
Alerts can be setup to email you when they are triggered to help you make more timely and informed investment decisions.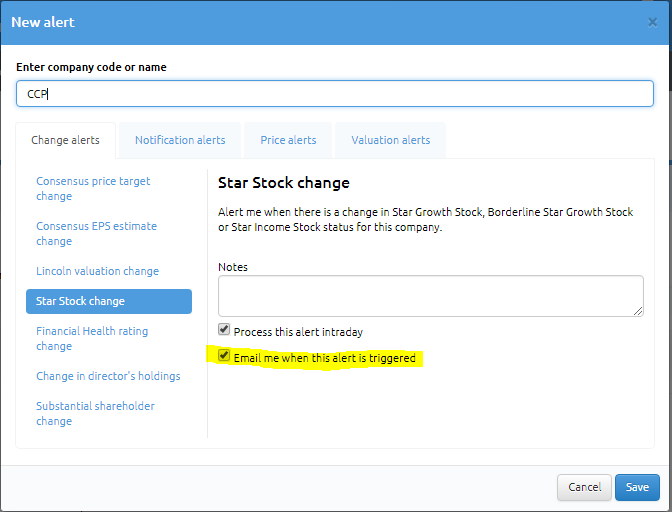 You also have the ability to have the alert set to trigger during the day. Leaving the box unchecked means you only receive alerts at the end of the trading day.
Editing/Deleting the alert
If you wish to edit the alert you can do so by:
- Clicking on the Alert name under the 'Alert' column
(Edit popup box will appear)
- Edit the criteria / notes of the alert
- Then click 'Save'
To delete an alert, simply tick the alert and click on 'Delete' button
Important note about Alerts
In order to ensure relevancy, keep your alerts up-to-date.
When an alert is triggered a decision will need to be made. Either reset the trigger, change the alert or delete it all together. Taking no action will mean the alert will lose all relevance as it will not alert you to any future change.