As part of Golden Rule 5 Share Price Value for our three categories of Star Stocks, we'll now no longer be displaying Lincoln valuations. But, as always, we will continue to display Consensus Price Targets (where data is available).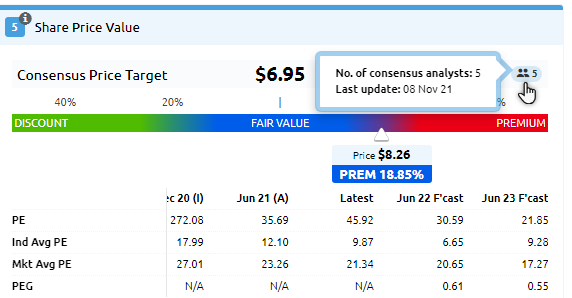 While our valuations have always tracked closely to consensus valuations, we've decided that by focusing on Consensus Price Targets, we can leverage the expertise of leading global research houses and enable our Lincoln analysts to focus on what they do best – optimising and applying our quantitative methodology and assessing the active risks facing companies.
Consensus Price Targets indicates the anticipated stock price 12-months in advance for companies where consensus data is available. It includes the average of target prices provided by well-resourced independent global research houses that provide timely and more up-to-date information than what was previously included in our Lincoln Valuations.
Importantly, we continue to believe that Consensus Price Target should – on its own - not be a primary reason for an investment decision, but rather, in conjunction with our 9 Golden Rules for Investing, help investors evaluate an investment based on their objectives and sensitivity to volatility.
It should always be remembered that we believe investors should always be prepared to pay a premium for a quality Star Stock and Star Stocks trading at a discount to Consensus Price Targets could present opportunity. However, unhealthy, low quality business trading at a discount to Consensus Price Targets could demonstrate a value trap.
Of course, on the rare occasion where Consensus Price Target for a company is unavailable, generally in smaller companies, it is very important that members conduct deeper due diligence. Members can use other key valuation metrics provided in Stock Doctor such as Price-Earnings ratio (PE), Price/Earnings-to-Growth ratios (PEG), liquidity measures (Golden Rule 6) and ownership structure (skin in the game/% of share ownership), leadership – is the founder still present? and remuneration (Golden rule 7) .