Located on your Home Screen, our Markets Panel provides you at a glance the latest market activity across the world with a detailed overview of global performance and value changes over a range of time periods.
Simply select the Region, Futures, Commodity or Foreign Exchange Tab from the top Menu bar e.g. US.
Then select financial instrument (e.g. US 500 Index) from the submenu to display a chart for that instrument.
Adjusting the Time frame e.g. 1 Day from the bottom of the chart, will display the Return over the selected period for the chart in view and all financial instrument in the sub-menu bar. On the first 4 tabs the price index is shown for intraday charts (1D, 1W and 1M). For longer time frames total return indices are shown, so the return will be the capital return for 1D, 1W and 1M periods and the total return (including dividends) for longer time frames. These returns are absolute for periods of 1 year or less and per annum for periods longer than 1 year.
Under each chart, it will show if the market is currently Open or Closed, if the data is Live or Delayed and the World Time Zone used on the x-axis.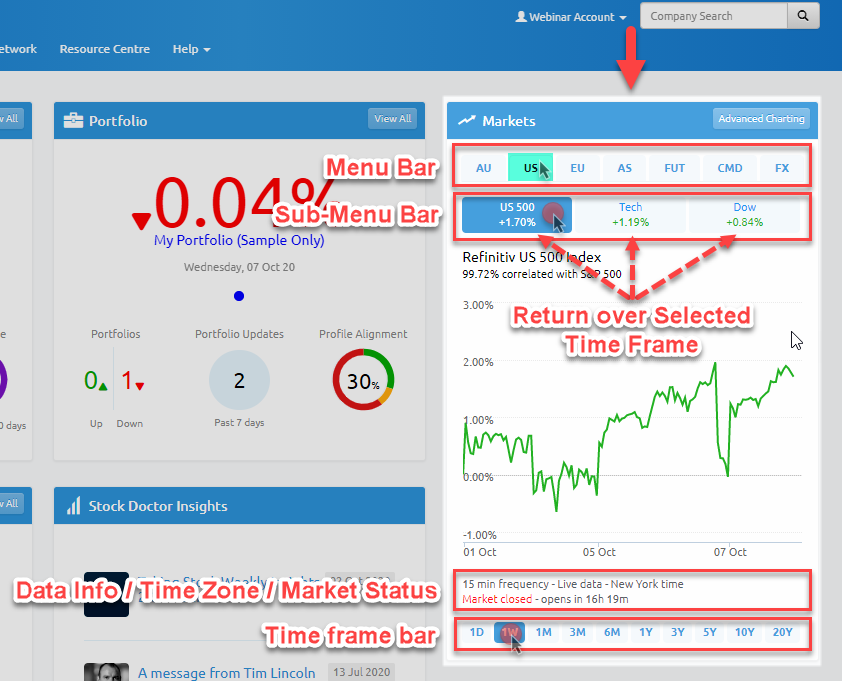 What is a Refinativ Index?
Refinitiv Indices are calculated by Refinitiv (who were previously part of Thomson Reuters). They are highly correlated to popular global benchmarks. The correlation percentages quoted are correlation coefficients between the EOD values of global benchmarks and the Refinitiv index over 12 months. Individual daily changes can vary, e.g. a 99% correlation does not imply that every daily change will be within 1% of the global benchmark.


Instruments displayed:
Tab

Intraday charts (1D, 1W, 1M)

End-of-day charts (3M and longer)

Time zone

Intraday delay (mins)

AU

ASX All Ordinaries Index

Sydney

20

S&P/ASX 200 Index

Sydney

20

S&P/ASX 20 Index

Sydney

20

S&P/ASX Small Ords Index

Sydney

20

US

Refinitiv US 500 Index

S&P 500 Total Return Index

New York

0

Refinitiv US Technology Index

NASDAQ-100 Total Return Index

New York

0

Refinitiv US 50 Index

Dow Jones Total Return Index

New York

0

EU

Refinitiv UK Index

Refinitiv UK Total Return Index

London

0

Refinitiv Germany 50 Index

Refinitiv Germany 50 Total Return Index

Berlin

0

Refinitiv France 50 Index

French CAC 40 Total Return Index

Paris

0

AS

Refinitiv China Foreign Investors Index

Refinitiv China Foreign Investors Total Return Index

Shanghai

0

Refinitiv Japan Index

Japan Nikkei 225 Total Return Index

Tokyo

0

Refinitiv Hong Kong Index

Hong Kong Hang Seng Total Return Index

Hong Kong

0

Refinitiv Singapore Index

Refinitiv Singapore Total Return Index

Singapore

0

FUT

S&P/ASX 200 futures

Sydney

10

S&P 500 E-Mini Futures

Chicago

10

Nasdaq 100 E-Mini Futures

Chicago

10

CMD

Gold Spot Price (USD)

Universal Time (UTC)

20

West Texas Crude (USD)

Universal Time (UTC)

20

Iron Ore

New York

10

Copper

New York

10

FX

AUDUSD

Sydney

10

AUDEUR

Chicago

10

AUDGBP

Chicago

10

AUDJPY

Universal Time (UTC)

20