Overview:
SD30TSR was developed by Lincoln Indicators following extensive back-testing on Star Stocks over a 10 year period.
Stock Doctor's trailing stop loss 30% exit / 30% re-entry (daily) indicator is the optimal trailing stop loss indicator to assist risk management and limit losses in Star Stocks.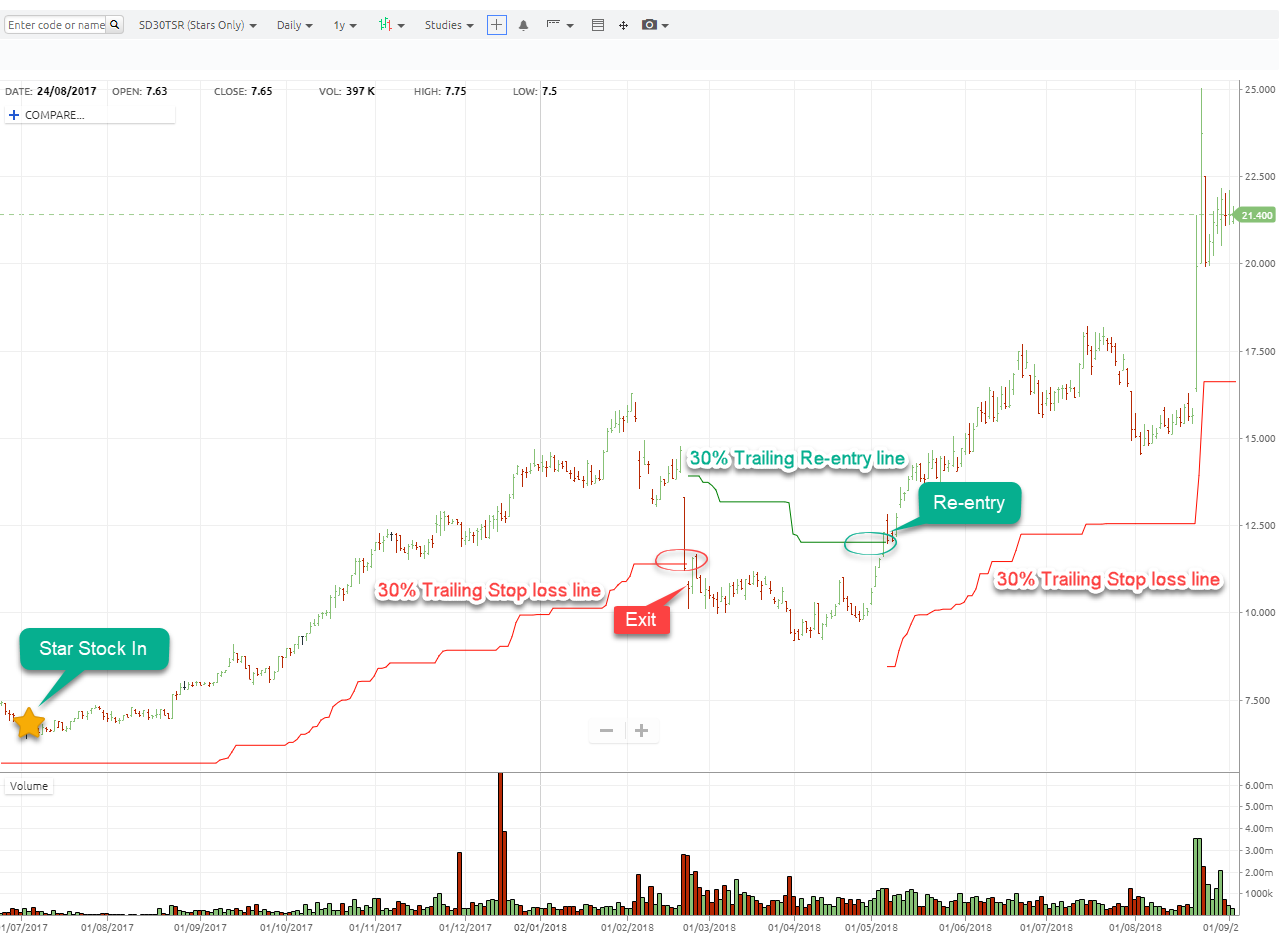 This strategy is suitable for investors who are moderately sensitive to price declines but are still prepared to let the stock price fall 30%. Would like to capture as much of the total Star Stock performance as possible and avoid stocks that have less chance of recovery after a big fall.
The indicator displays a 30% Trailing Stoploss line from the day a stock is identified as a Star Stock, once the price drops through the stop loss line it reverses to a 30% Trailing Re-entry line.
How to apply as an exit strategy
The stop loss level is set 30% below the stock price when a stock is awarded Star Stock status. As the stock's price reaches new highs (close price), so does the 30% 'trailing' stop loss. Investors exit once the close price falls below this 30% trailing stop loss level.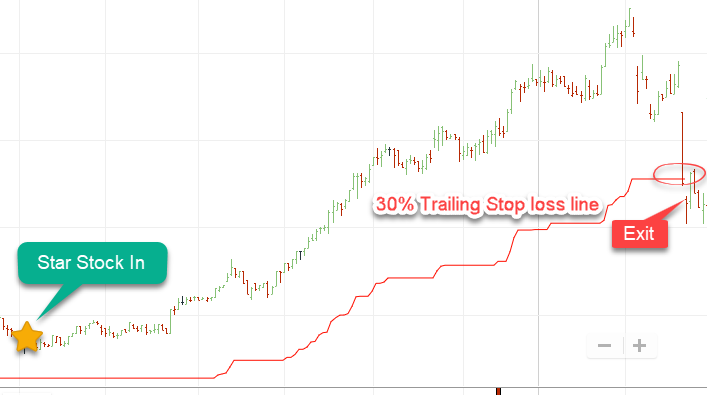 How to apply as a re-entry strategy:
Investors re-enter once the Star Stock rebounds 30% above its lowest close, from when the stop loss was triggered.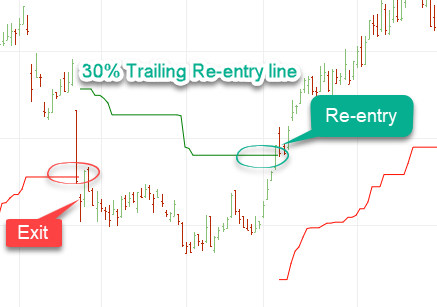 As this strategy uses of daily prices, should the price decline be driven by sentiment rather than the fundamentals, there is a chance of re-entry prior to the next report should the price recover 30% from its lows.

Accessibility

9 Golden Rules Screen

It appears on the Nine Golden Rules Page only for Star Growth, Borderline Star Growth and Star Income Stocks. As SD30TSR relates to share price sentiment, you'll see it under Golden Rule 4.
Navigate to any company 9 Golden Rule screen
Under Golden Rule 4
Select SD30TSR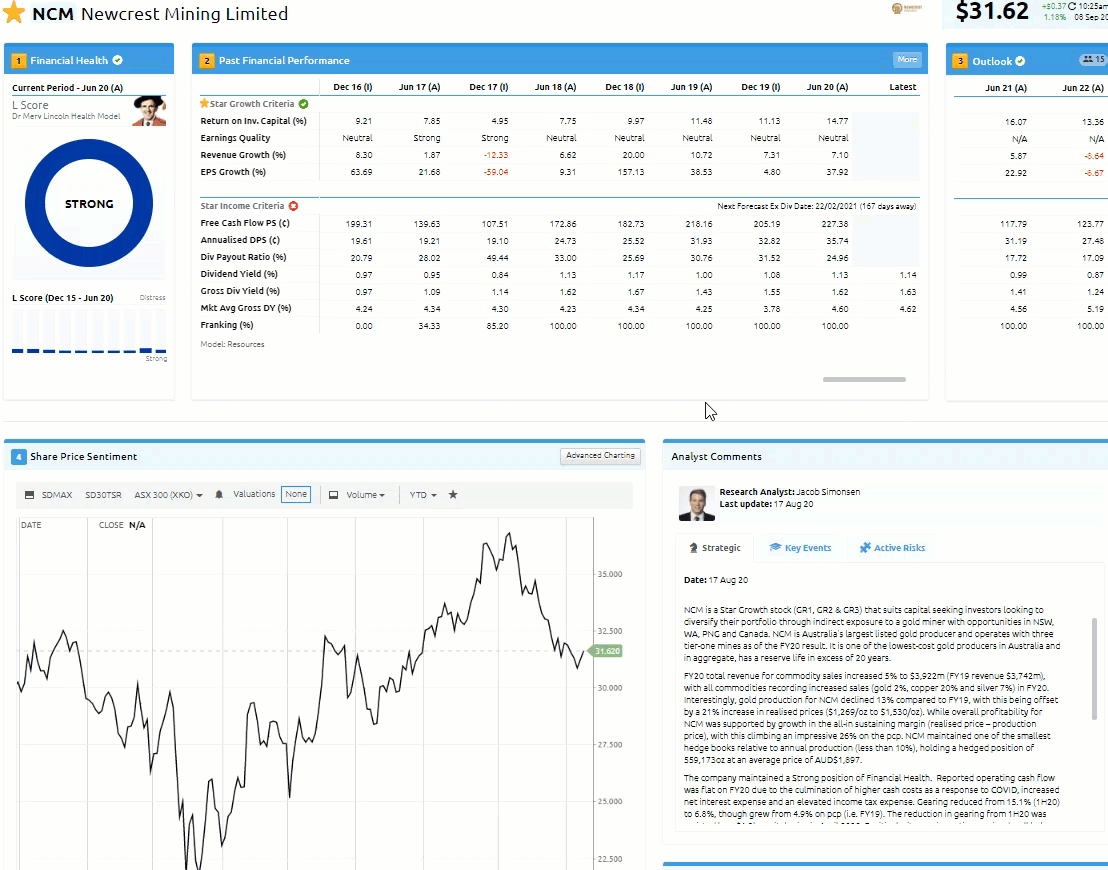 Advanced Charting Tool

SD30TSR is accessible when you're in the Charting Tool, select it from the Layouts Menu or the Studies drop down menu.
Navigate to the Advanced charting tool (Tools > Advanced Charting Tool)
Click on the Layout drop-down menu
Select SD30TSR (Stars Only)
OR
Click Studies
Select SD30TSR (Stars Only)


Stock Filter
SD30TSR is built into the existing Lincoln Star Stock Filters, for example; Star Growth Stocks. In the far-right column, you'll see stocks that have Breached or Not Breached Stock Doctor's 30% stop loss level.
Navigate to the Stock Filter (Tools > Stock Filter)
Click on an existing Lincoln Star Stock Filter
Click Run
Scroll to the far right of results: SD30TSR (Stars Only) column.


And, if you're creating a custom filter, it's a selectable criteria.
Select Build a New Filter
Enter a Filter Name
Create New Stock Filter
Click (+) Add Criteria
Click Select Option
Select SD30TSR (Stars Only)
Select Operator: Breached, Not Breached, N/A
Click Run


Watchlist

SD30TSR is also available in Watchlists within Stock Doctor's Views: Growth, Income and Daily - SD30TSR (Stars Only) and as a field for your custom Watchlist views.
Navigate to Watchlists (Tools > Watchlists)
Select View drop-down
Select Growth, Income and Daily
Scroll to the far right column: SD30TSR (Stars Only)
It can also be added to custom Watchlist View
On the right of View
Click Edit button
Select Create New Watchlist View
Enter user defined view name
Select SD30TSR (Stars Only) from available fields along with any other fields you would like in your view
Click on the (>) Button
Click Save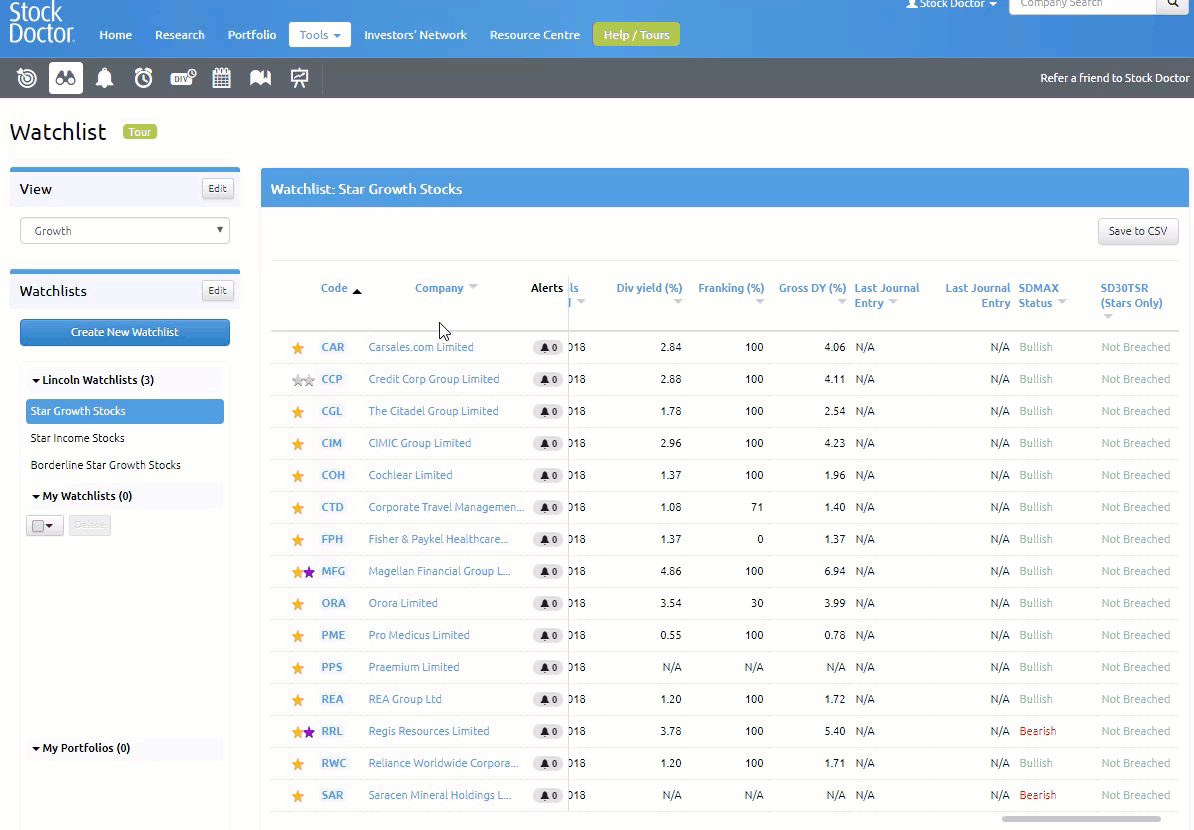 Pro's
Comfortable with short term price declines/retracements in great businesses.
Suits those who prefer less churn but will will make decisions as necessary.
Low churn and good average tenure.
Improved the performance of Star Stock selections.
Daily reviews make it less likely things will get out of hand.
Con's
To capture Star Stock performance there will be times when you have a large number of stocks in your portfolio.
Higher churn and lower win rate means increased importance of re-entering.
Drawdown can be very large if a downward price spike occurs after a prolonged period of weakness prior.
Win/loss ratio deteriorates more often as losses cut more frequently.
If stocks have two legs down (fall 30%, rebound but then fall again) the losses can increase.


The SD30TSR and SDMAX (Indicators) have been identified through a rigorous research process using historical price data against Star Stock selections. Each Indicator has its strengths and weaknesses. The information contained within the Indicators is for general information purposes only. It is not intended as investment advice, or as recommendations to buy, sell or hold a stock and is not to be relied upon as such. Past performance is not an indication of future returns.
Lincoln specifically disclaims any liability (whether based in contract, tort, strict liability or otherwise) for any direct, indirect, incidental, consequential, or special damages arising out of or in any way connected with access to or use of these Indicators.
Except as provided by consumer protection law, under no circumstances will Lincoln Indicators and its related companies be liable for any loss or damage caused by a client's use or access to the Indicators. Contact our office should you required assistance on how to apply these indicators correctly.
Lincoln Financial Group Pty Ltd and its directors, employees and/or associates of these entities may hold interests in ASX listed companies. This position is disclosed within the Stock Doctor program and may change at any time without notice.
No part of this document may be copied, duplicated or reproduced without the permission of Lincoln Indicators Pty Ltd.
Copyright © 2018 Lincoln Indicators Pty Ltd