Within the 9 Golden Rules screen included is a strategic comment which highlights the following:
The type of investor the company may suit

Potential opportunities

Potential concerns

Risks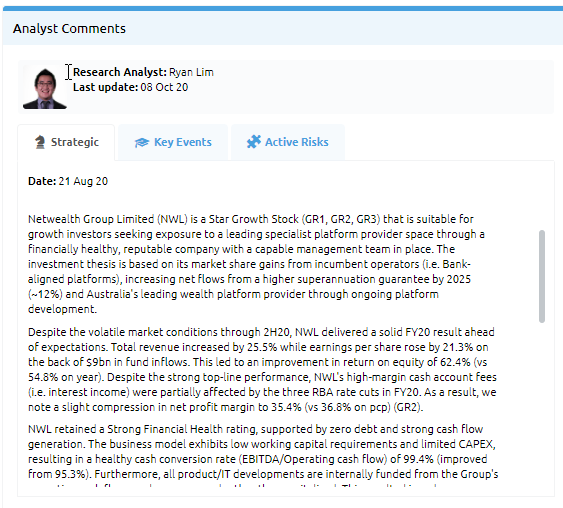 A strategic comment is written about every stock listed on the ASX in order to allow you to get a very brief snapshot as to the investment quality of the company and what type of investor it suits. It also highlights any points of importance that need to be brought to your attention with regards to your review of it as an investment opportunity.
All comments will be updated dynamically whenever there is a major event that may change the way the company is perceived. These include, but are not limited to, the arrival of new financials or a major announcement.
Never before has the Australian market been covered with an analyst overlay to such depth. It is our pleasure to provide this level of commentary on every stock in order to further position you with the confidence, control and peace of mind you need to invest successfully in the market.
Do note, in no way is the strategic comment meant to be a sole determinant of whether you buy/sell/hold a company. All other criteria such as Financial Health, Star Stock status, our Nine Golden rules and their alignment to your objectives still need to be considered before making any investment decision.
The strategic comment has not taken into account your personal objectives, financial situations or needs therefore the further research is required and if you wish to discuss the company in more detail contact our office, or alternatively if you wish to discuss the stock's appropriateness to your needs speak to a licensed financial adviser.