Within the Portfolio Manager under the performance tab, one of the sections identifies which indicies your current holdings sit within.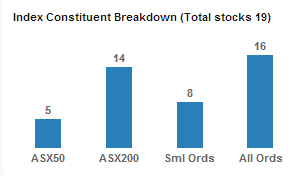 One source of confusion is that the numbers identified at the top of the bar when added up come to more than stocks help within the portfolio.
In the above example you can see that the portfolio currently holds 19 companies. Yet the sum of the total on the bars is 43.
The reason for this discrepancy is because some stocks are in multiple indices. For example, the 5 companies in the ASX50 are also in the ASX 200 and the All Ordinaries index. These will appear as 15 entries (5 in ASX50, 5 in ASX200, 5 in All Ords) and hence why the figures will vary.
We can see from the bar chart that 16 of the 19 stocks we hold in our portfolio are in the All Ordinaries Index. 5 of the stocks we hold are in the ASX50. The 5 will also be in the 16 for the All Ordinaries.