The Main Navigation Bar along the top of every Stock Doctor page, provides easy access to the main features within Stock Doctor.

Home
Personalised dashboard allowing you to keep track of your portfolios performance, triggered alerts, latest market news, upcoming education events, market movements and updates to Lincoln covered stocks.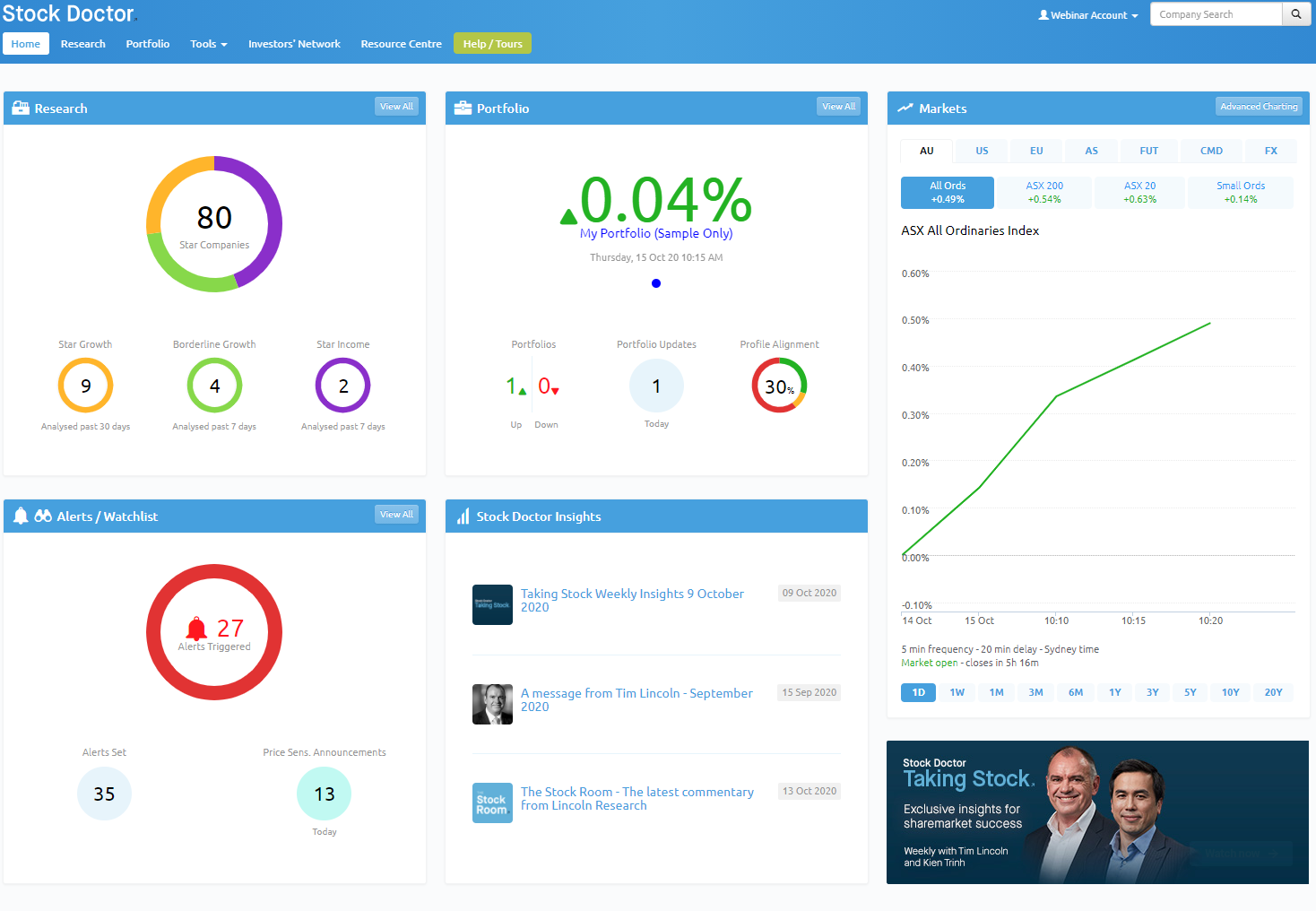 Research
Access the latest updates to Stock Doctor preferred companies and analyst comments. View the most recent Lincoln articles, videos, monthly messages and keep up to date with upcoming Lincoln events.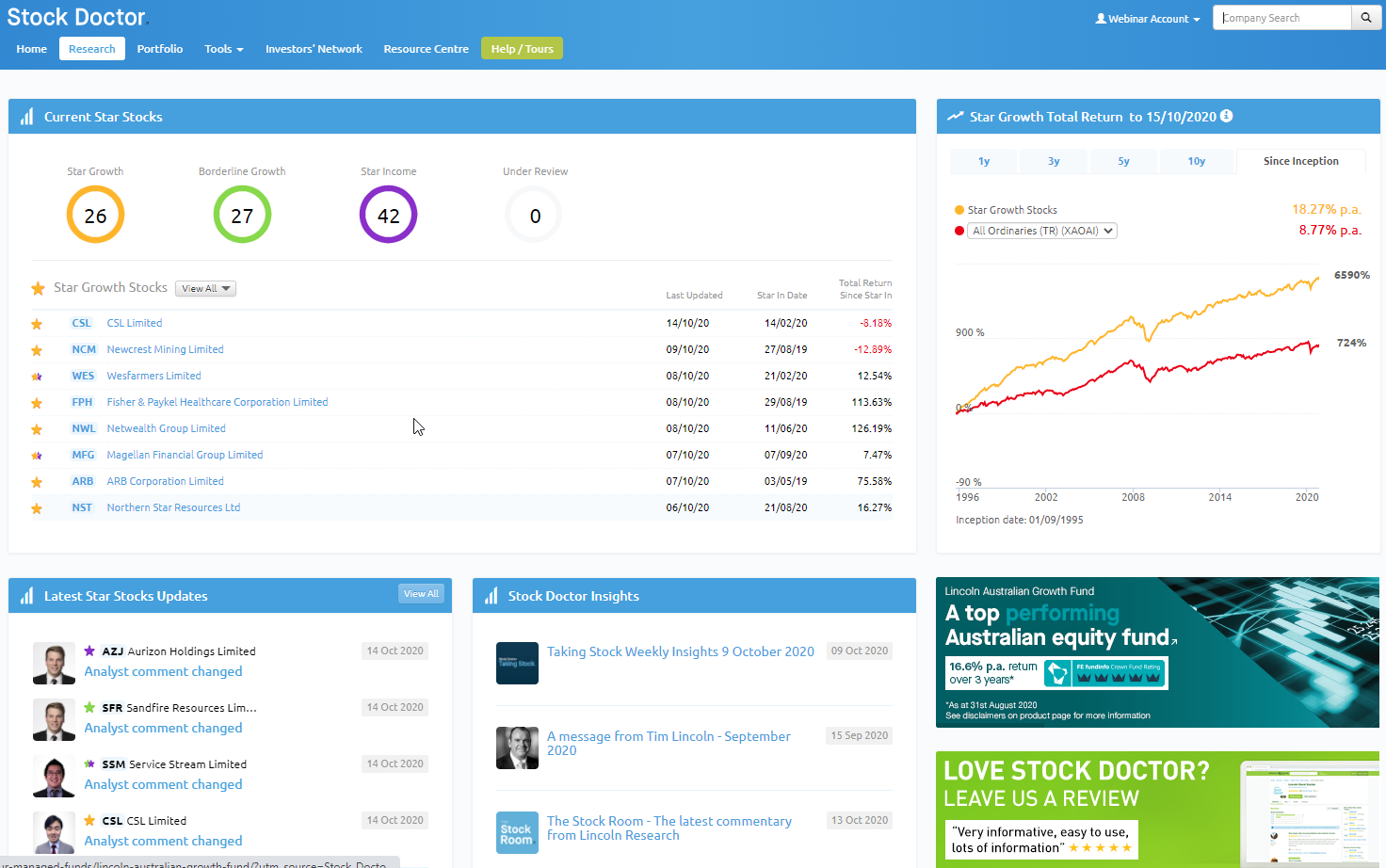 Portfolio

Assists you in managing and maintaining your share portfolio.
Enables you to easily monitor the Financial Health and other important fundamental criteria you need to make an informed and objective decision about companies that you currently hold.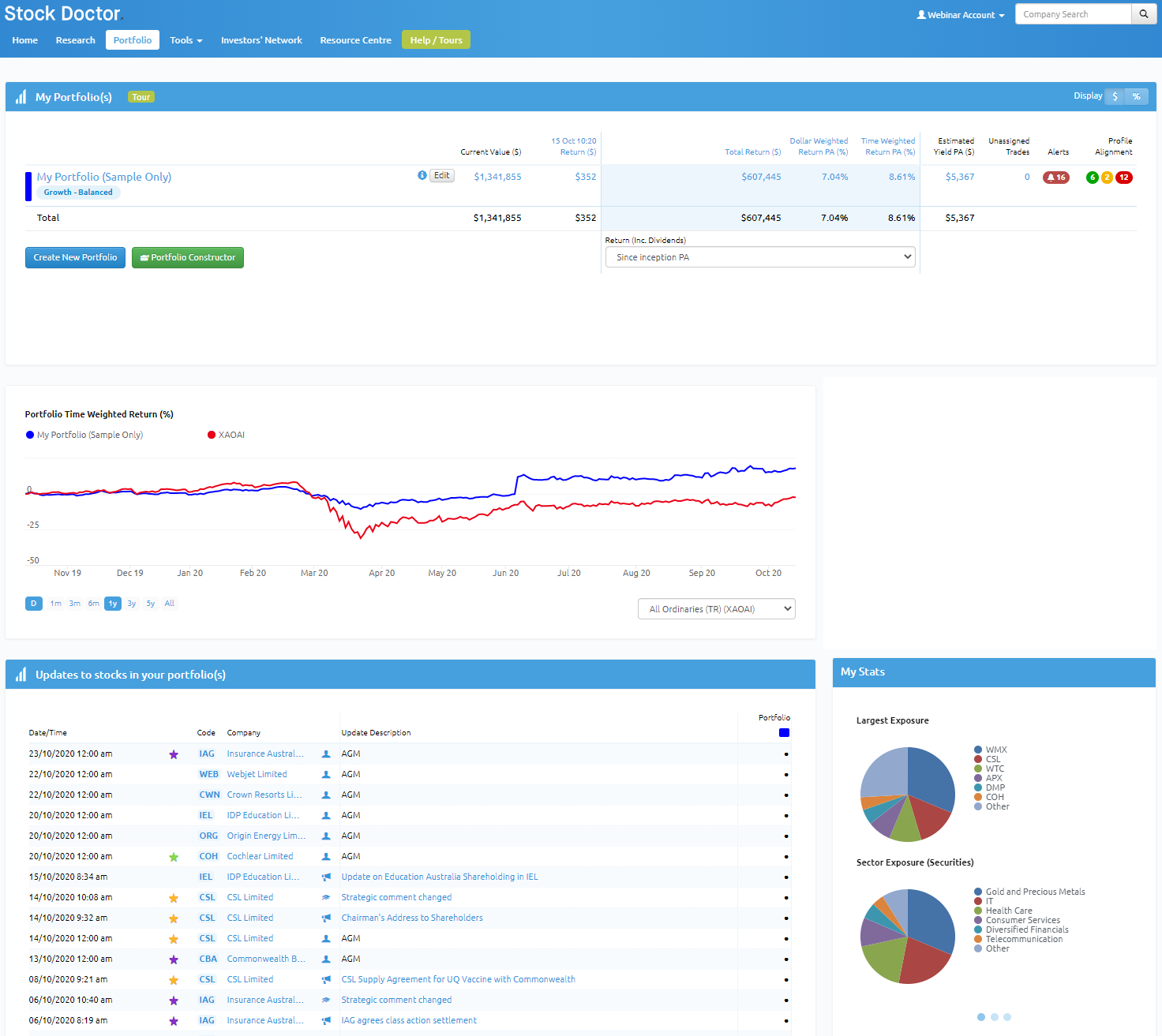 Tools

Stock Filter
Allows you to extract a list of companies from the database based on your own selection criteria or via a range of Lincoln pre-defined criteria. You can also save your criteria for future use or export the results for use in an external program.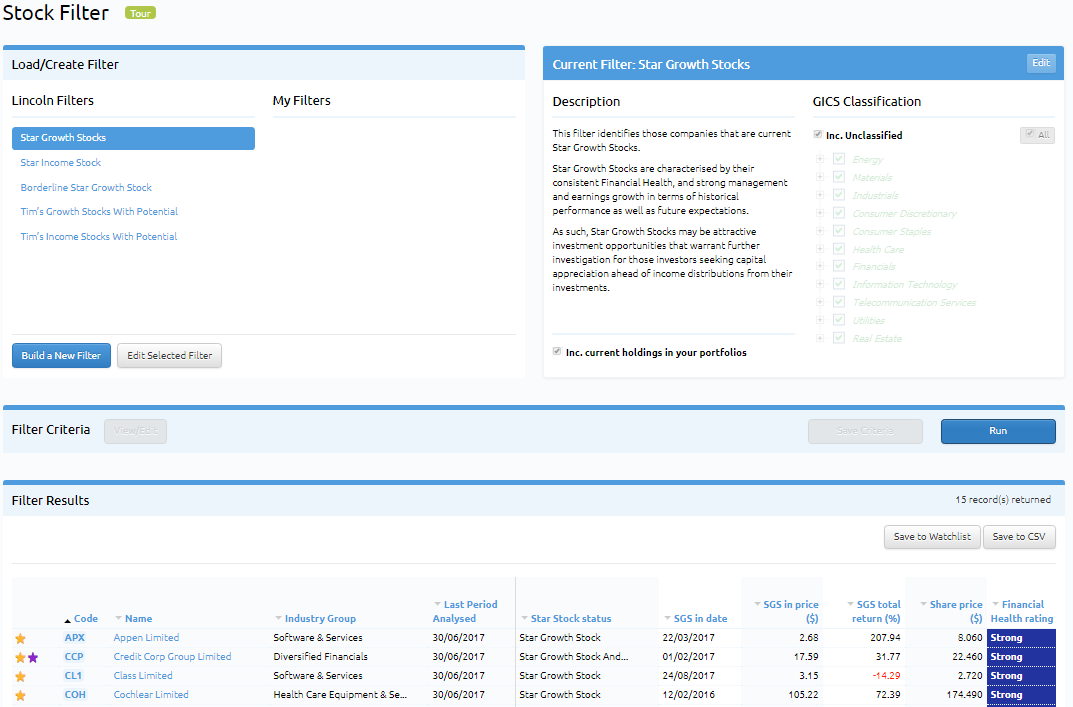 Watchlists
Allows you to track the fundamental performance of companies that you have an interest in so that you can make timely and informed decisions based on your own buy and sell criteria.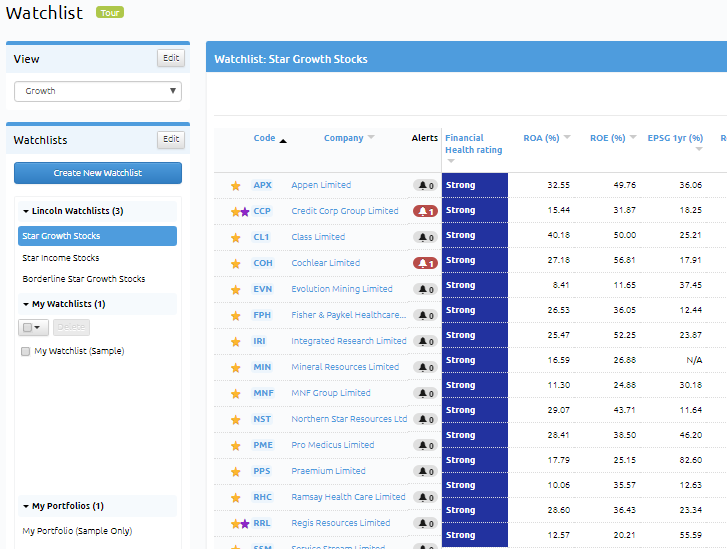 Alert Manager
Ability to put in place indicators that alert you to a potential buy or sell opportunity given your own pre-determined targets.


Company search
Allows you to find companies by company name, ASX code or keyword.



Recent updates
Access to ASX company announcements, price sensitive updates, Star Stock changes, analyst commentary and more.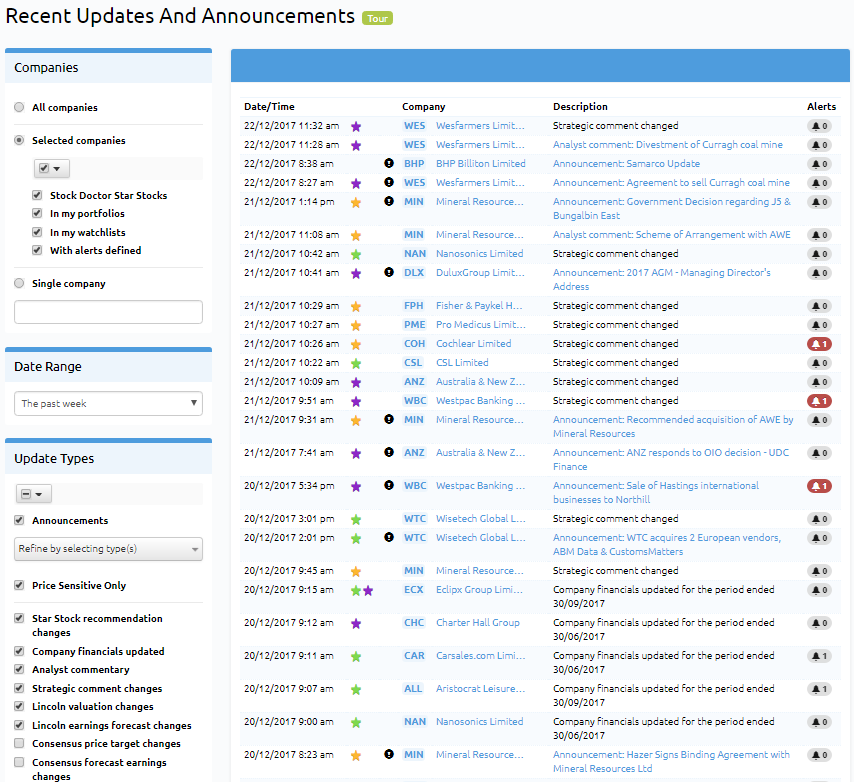 Pending Dividends
Allows you to identifies those companies that have announced that they are paying a dividend in impending date order.



Corporate Calendar

Lists all ASX companies reporting dates so you can keep track of results as they're released to the exchange.
Stay on top of the latest news, opportunities and events such as: AGM's, Reporting Dates, Dividend information and Lincoln Events.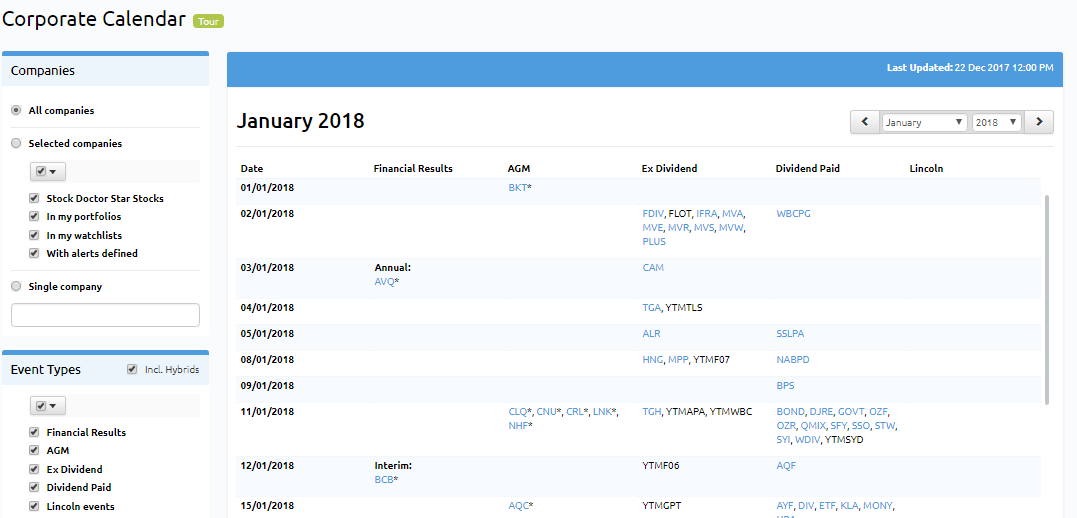 My Journal
Allows you to record journal entries related to companies, portfolios and other topics within one central location.

Advanced Charting Tool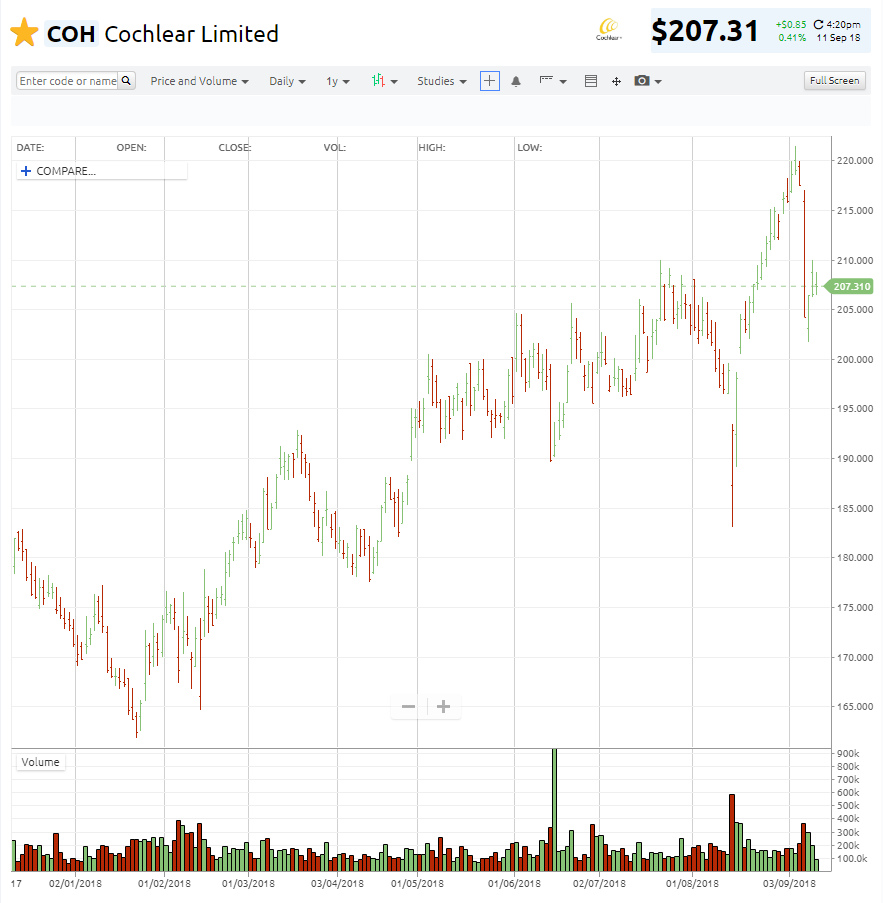 Investors' Network
Allows you to connect to the broader Stock Doctor investment community and encourages the sharing of investment knowledge and ideas.
Resource Centre
Provides you access to the latest Lincoln Articles, Market Wrap Videos, Daily Communications and News.
Help / Tours
Access to Help and Interactive Tours on Stock Doctor features.
The Research Toolbar and Quick Tools are only enabled once a company is selected.




9 Golden Rules
Allows you to easily screen through a company's fundamentals to make an informed investment decision.

Financial Statements
Allows you to access the data from a company's financial statement.

Health Ratios
Allows you to view the 12 key ratios that make up the Lincoln health model.

Analyst Comments
Allows you to view Analyst Comments on price sensitive announcements and investment ratios that compromise a health score.

Announcements
Allows you to view all company announcement and the price reaction.

Corporate Details
Provides you with a description of the company's principal activities, details of directors and management and their shareholdings in the entity and important events.

Shareholders
Allows you to view information on the shareholder ownership, liquidity over time and transactions movements of substantial shareholders.

Dividends
Allows you to access information on current and forecasts dividend amounts, dividend yields, broader market yields, franking, dividend cover ratio and ex-dividend date.

Securities
Shows all securities related to the ASX listed company.



Corporate Calendar
Lists all ASX companies Reporting Dates, AGM's, Dividend information and Lincoln Events, so you can keep track of results and news as they're released to market.

Company PDF report
This will generate a pdf report, specifying the company's strategic comment, key fundamental data and latest analyst comment.

Quick tool buttons
Allows you to view, edit and create alerts, journal entries, add stocks to a watchlist or view which portfolios the stock you are currently looking at are in. See: https://help.stockdoctor.com.au/hc/en-us/articles/360000425076

New Trade
Opens the Order Pad which is linked to Bell Direct for seamless online trade execution.

** Linked Bell Direct account needed