When combined with Financial Health, past financial performance is an essential quantitative barometer to help further measure the true fundamental quality and investment potential of growth and income stocks.
Management quality and leadership capabilities are important factors when assessing the ability of a company to fulfil its financial and strategic objectives.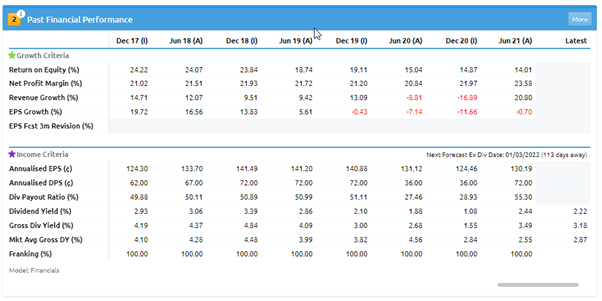 For growth stocks, it is critically important to achieve strong earnings efficiency, high-profit margins, robust cashflows and generate positive long-term earnings growth. The sector-specific growth factors we use to assess these are: Return on equity (ROE), Return on Invested Capital (ROIC), Return on Assets (ROA), Net Profit Margins (NPM), Earnings Quality (EQ), Revenue Growth (RG) and Earnings Per Share Growth (EPSG).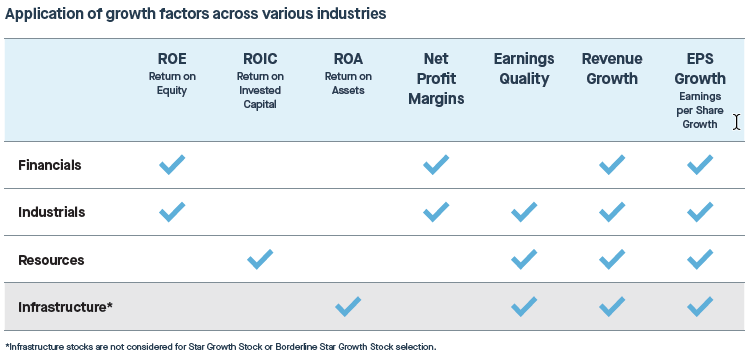 For income stocks, it is paramount that companies demonstrate sustainable and dependable dividends via a history of consistent dividend payments, cashflow margins above dividend payments, and a stable dividend outlook. The sector-specific income factors we assess include: Operating Cashflow Per Share (OCFPS), Free Cashflow (FCF), Earnings Per Share (EPS), Dividends Per Share Growth (DPSG), Dividend Payout Ratio (DPR) and Gross Dividend Yield.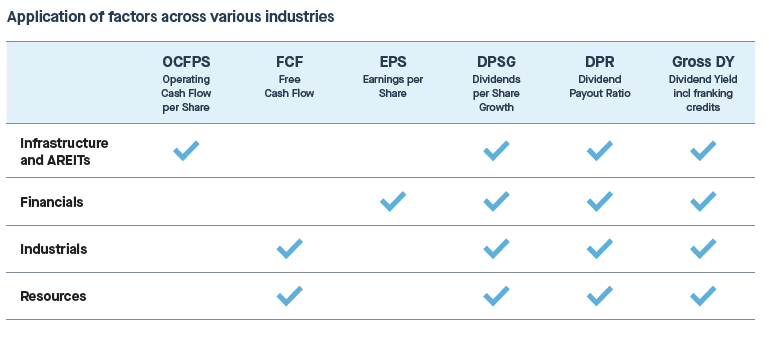 Passing Golden Rule 2, Past Financial Performance is a Stock Doctor Star Stock requirement
Growth Criteria
If a company passes Golden Rule 2 from a growth perspective, it's flagged on our 9 Golden Rules page by a gold-coloured number and a star alongside the Star Growth Criteria heading.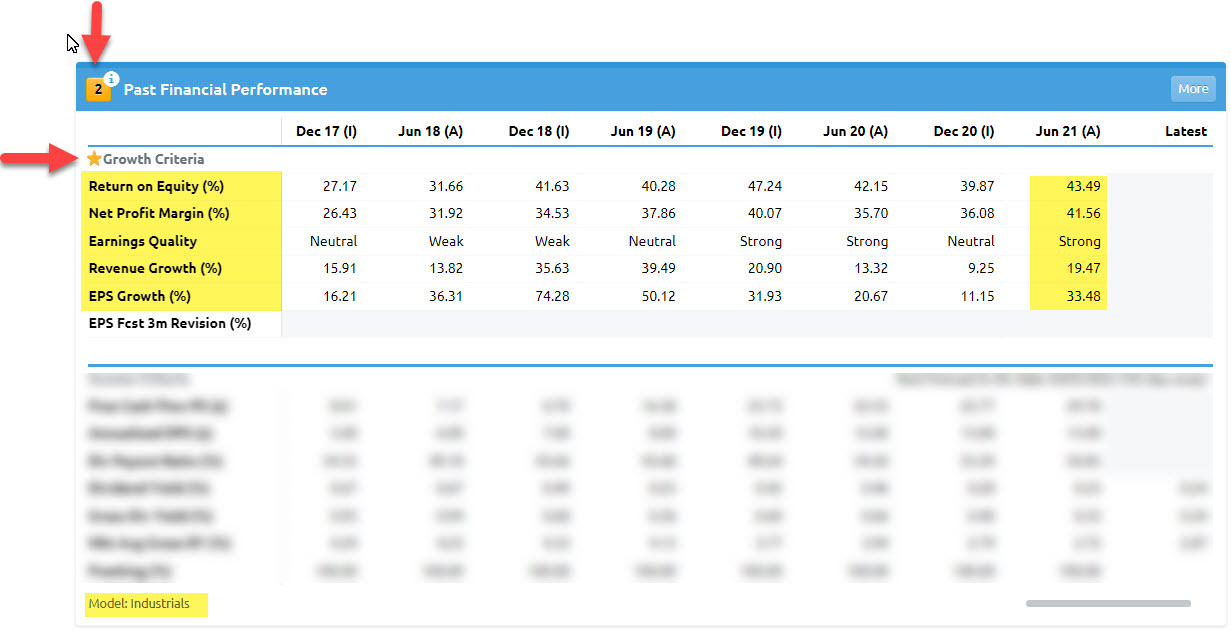 There will usually be approximately 30 Star Growth Stocks separated from our Borderline Star Growth Stocks. This is done using our proprietary application of the z-score ranking that runs over the entire market on Golden Rule 2 – Past Financial Performance sector growth factors.
Our backtesting of the z-score sector ranking has shown to add value to Star Stock portfolios over the long term. But all our Star Stocks, whether Star Growth, Borderline Star Growth or Star Income Stocks, are high-quality businesses.
During reporting season, to reduce excessive Star Growth Stock and Borderline Star Growth Stock changes/transitions, we apply z-score buffers and limitations.
Income Criteria
If a company passes Golden Rule 2 from an income perspective, it's also flagged by a gold-coloured number and a purple star alongside the Star Income Criteria heading:
Tip: Click on any financial ratio (e.g. Dividend Payout Ratio %) to be provided with a definition of the ratio.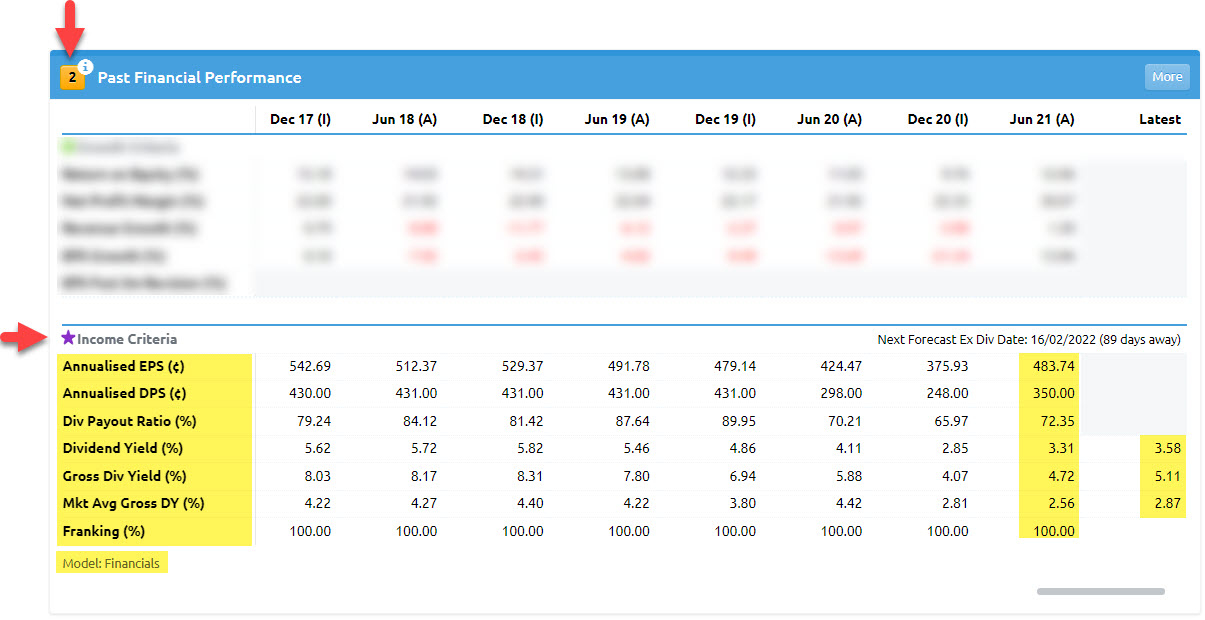 Why is past financial performance important?
Though a company may have a Strong or Satisfactory Financial Health rating, it is also important that the company is run efficiently, with management delivering on the needs of growth and/or income-seeking investors.
For growth-seeking investors, the factors we believe that can explain differences in positive stock returns include those relating to profitability (ROE, ROIC), profit margins, earnings quality (accruals), and earnings and revenue growth.
For income-seeking investors, a company's history of high cash generation and low gearing levels may demonstrate a higher ability to sustain its dividend policy.
For more information on the Golden Rules Star Stocks must meet, refer to Lincoln Indicators' Nine Golden Rules Whitepaper.