The Portfolio Constructor is a revolutionary tool designed to assist new and existing investors in implementing an investment portfolio that caters to their needs whilst considering their risk profile.
This tool is accessible via the Portfolio Constructor 'Launch' button in Portfolio Director. Clicking on the 'Portfolio Constructor' button will display the Investor Profile screen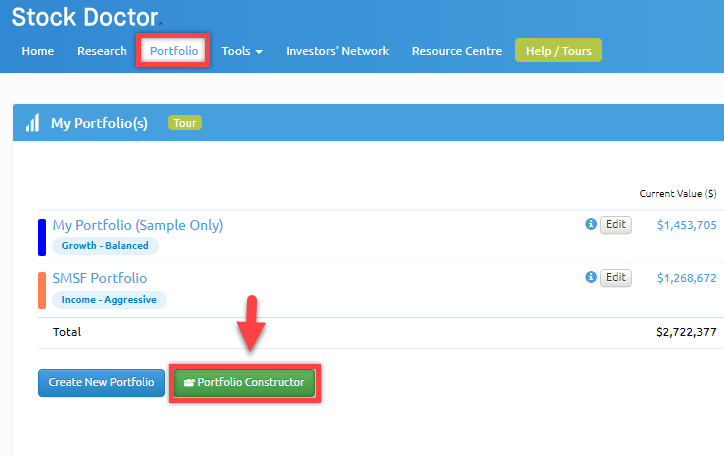 Investor Profile
The Investor Profile screen allows selection of the appropriate investment objectives:
Growth Focus - increase portfolio value through share price appreciation.
Income Focus - receive a steady stream of distributions.
General Focus - other objectives, like low volatility or no bias towards growth or income.
This objective can be further refined to better account for more specific risk and return profiles. e.g. 'Conservative - Growth Focus'.
A short description is provided to aid selection. In addition, investors who require further assistance can click on the Investor Profile Calculator link to determine the appropriate profile.
The 'Use Profile' button will apply this profile and further refinements in the optional Advanced Investor Profile screen.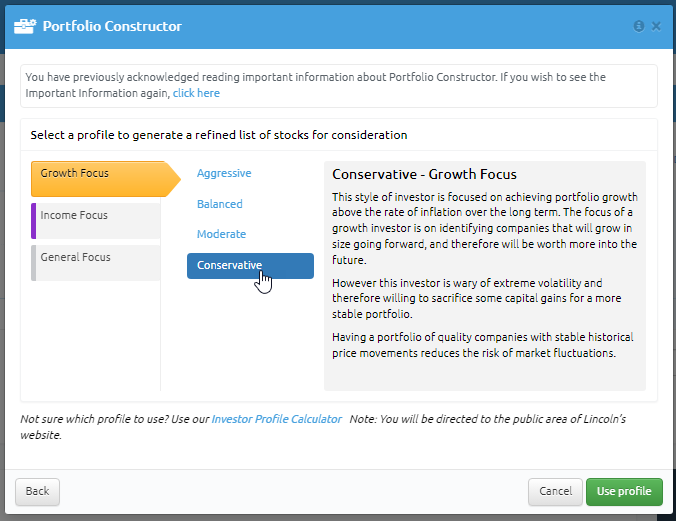 Advanced Investor Profile Filter
The next two screens allow investors to add advanced requirements to their Investor Profile, allowing the Portfolio Constructor to tailor a portfolio for specific investors better:
Select the number of stocks to display that align with the selected investment profile.
Capital to invest in a portfolio
As part of their investment strategy, Trend sensitive investors may also want to exclude stocks that are in a bearish or breached condition on our SDMAX or SD30TSR technical indicators.
Click Next
Lastly, investors can also exclude industry sectors they don't wish to invest in for ethical reasons, personal reasons or think there's a negative outlook.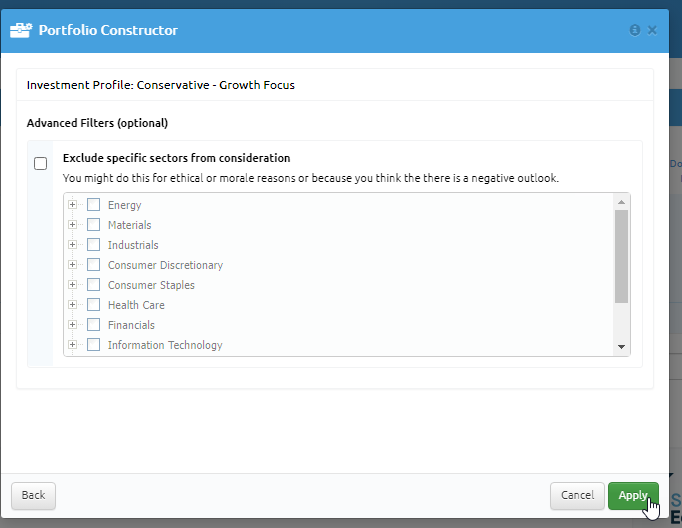 Clicking the Apply button will generate the results.
Portfolio Constructor Results
This is the key screen for the Portfolio Constructor. It displays a list of companies as a starting point for a new investment portfolio.
This screen allows investors to make final adjustments to their preferences through several functions:
Adjusting the 'Weighting (%)' for each holding, showing the final portfolio weighting allocation.
Allow up to 3 companies to be compared via the checkboxes and 'Compare' function. Please see Compare for more information
Provide the ability to remove specific companies from the list via the '-' and '+' buttons and the 'Run Again' button.
Weight Evenly button that will divide percentages evenly.
To store the updated results as a starting template for a portfolio, click the 'Save as Watchlist' button or 'Print'.